History and Traditions
University History
The passage of a bill in early 1909 by the Thirty-first Texas Legislature authorizing the establishment of a State normal school for the education of teachers located somewhere "west of the ninety-eighth meridian" set off a spirited bidding war as some 25 west Texas cities and towns competed to secure the educational institution. On Sept. 9, 1909, the location committee, consisting of the speaker of the Texas House of Representatives, the lieutenant governor and the superintendent of public instruction, announced its decision. The location for the school, already named West Texas State Normal College, would be Canyon, a young community of 1,400 located near the center of the rapidly developing Texas Panhandle. Many factors were involved in the location decision, but a pledge of 40 acres of land and $100,100 in cash made Canyon's bid particularly attractive. Although not mentioned in the official report, the city's lack of saloons also strengthened its case.
Read more about the University's history here.
Traditions
The Buffalo
In 1921 a badger, a chaparral, a coyote, a rattlesnake, a prairie dog and a buffalo were all nominated as the school's mascot by the student body, and it was a heated debate until T-Anchor cowboy L. "Parson"Gough took the floor. He described an adventure he had in 1892, when he and another cowboy had roped two buffalo calves on the very site where Old Main was built. The student body stood in unison to cheer for Gough's nominee, and the buffalo has served as a majestic symbol of the University ever since. WTAMU is one of only a handful of schools that still has a live mascot.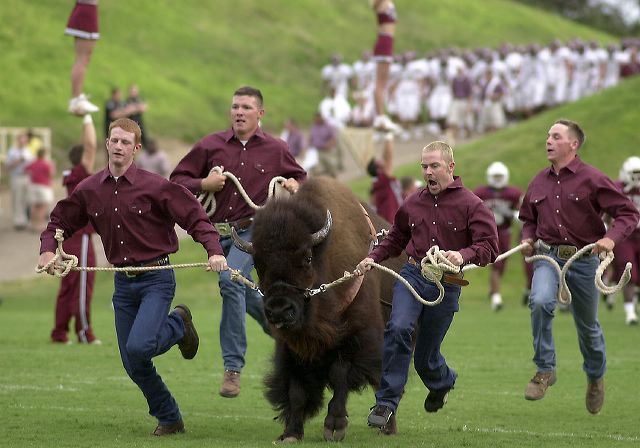 Buffalo Stampede
Everybody loves a touchdown, but it's the traditional buffalo run across the field that really gets everyone excited, especially when the University mascot hits stride and the Herdsmen handlers lose their footing. It's all part of the game.
Fight Song
The University's Fight Song was written by Jack Curtice, a member of the football coaching staff from 1938 - 1941. Other fight songs have been introduced, one as recently as 1963, but none have been able to undermine the popularity of Curtice's "On, On Buffaloes."

On, on Buffaloes,
We are right for the fight tonight;
Hold that ball and hit that line,
Every buffalo will shine;
And then we'll fight for maroon and white,
And we'll roar for the old varsity;
We'll kick, pass and run
Till those ________ are done;
And we'll bring home the victory!

W – T – A – M, WTAM, Fight! Fight! Fight!
Alma Mater
The University's Alma Mater was written in 1921 by S. Elizabeth Davis, assistant professor of English. During the years that chapel attendance was required, the singing of the Alma Mater was a ritual that brought the morning's program to a close. " Sing with enthusiasm as well as with reverence and feeling," Wallace R. Clark, head of the music department, would say. He was equally adamant about singing the Alma Mater only on appropriate occasions. "It is a hymn," he declared firmly, "and should be sung with a reverent attitude when and where a spirit of reverence is fitting." Students learned Clark's lessons well, and even after more than 80 years, the Alma Mater is sung in reverence by current and former students, standing tall and with "horns" held high.
Over boundless reach of prairie,
Over rolling plains,
Over cliff and crag and canyon,
Alma Mater reigns!

To maroon and white, our colors,
We would faithful be --
Hearts as bold as western breezes,
Souls as pure and free!

Round thy image, Alma Mater,
Hallowed memories twine;
Bless the sacred ties of friendship
Pledged before thy shrine.

Alma Mater! Alma Mater!
We will faithful be;
Through the years that lie before us
We'll remember thee!
Hand Sign
Fold your middle three fingers to your palm, extend your thumb and little finger and you've got your own set of buffalo horns. The sign, with hand held high, is proudly displayed during the alma mater, when a player is injured and as an energetic addition to cheers and the fight song.